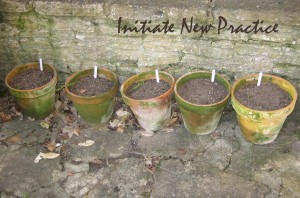 I believe in moving from research to practice – trying new approaches learned through experience or research – to see how they really work in practice!
Check out Learning Processes or Helping Others Learn at www.learningandviolence.net and initiate some new practices yourself!
What do I want to do?
Support you in the new practice to address the impact of violence on learning that you want to try!
Try out new ideas in my local community-based adult literacy program and in interested community-colleges.
Create new practices in my own life – balance body, mind, emotion and spirit – continue to learn Pilates, meditation, photography, and mosaic.
Continue to play with creative means of expression and invite to join me in this.
What new practices could you initiate in the area of learning and violence?
What  have I done?
Led training for the World Education Project to develop new practices in different adult education sites – including family literacy, corrections, job readiness, shelter and community based programs  – throughout New England and assess their value to support learning for all.
Created the Women's Success Course at Parkdale Project Read for survivors of violence and developed a manual for others to try.
Learned photoshop to use photography to explore the impact of violence on my own life.
Check out the What I have done pages for the details.