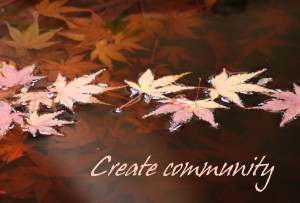 I create and support virtual and local communities in my work and in my life generally. In community we can be nurtured and reminded of the possibilities of creating the impossible!
learningandviolence.net is a virtual community around violence and learning – providing a space for us to speak and develop understanding together.
What do I want to do?
Create a world-wide community of researchers and practitioners interested in understanding and addressing issues of violence and learning.
Are you interested in joining me?
What have I done?
Pulled together partners interested in developing learning and violence work to help develop learningandvolence.net.
Set up a pre-conference to WE LEARN to bring together women from around North America working on the issue of violence and learning to develop our thinking further.
Created a regular women's creative afternoon to bring together a network of women interested in supporting each other to create in any form.
Joined with my neighbours to create a street where we can find allies and support, share resources and expertise, create safety and beauty together.
Check out the What have I done pages for the details.